Diagnostyka radiologiczna jest niezbędnym elementem planowania leczenia ortodontycznego.
Bezpieczeństwo Pacjenta - najważniejszą zaletą radiologii cyfrowej, dzięki wykorzystaniu czujnika promieniowania zamiast kliszy, jest zmniejszenie dawki promieniowania nawet o 90%. Tak niska dawka umożliwia bezpieczne powtarzanie zdjęć w toku leczenia ortodontycznego.
Podstawowe badania RTG w ortodoncji:
Pantomogram (ortopantomogram, OPG),
Cefalogram (zdjęcie cefalometryczne).
RTG pantomograficzne
Umożliwia przeglądową, dwuwymiarową ocenę części twarzoczaszki, w tym kości szczęki i żuchwy. Zdjęcie obejmuje zarówno struktury widoczne w jamie ustnej jak i znajdujące się wewnątrz kości.
Pozwala uwidocznić m.in.:
struktury anatomiczne – zęby, przyzębie itd.,
rozwijające się u dzieci zawiązki zębów,
zęby zatrzymane,
struktury anatomiczne istotne dla ruchu zębów (np. dno zatoki szczękowej),
zmiany patologiczne – ubytki próchnicowe, zmiany zapalne w okolicy korzeni zębów, chorobę przyzębia, a niekiedy zmiany nietypowe, wymagające dalszej diagnostyki.
Zdjęcie powtarzane w czasie leczenia ortodontycznego pozwala zobrazować efekty leczenia, pozycję korzeni, możliwości dalszego ruchu itd.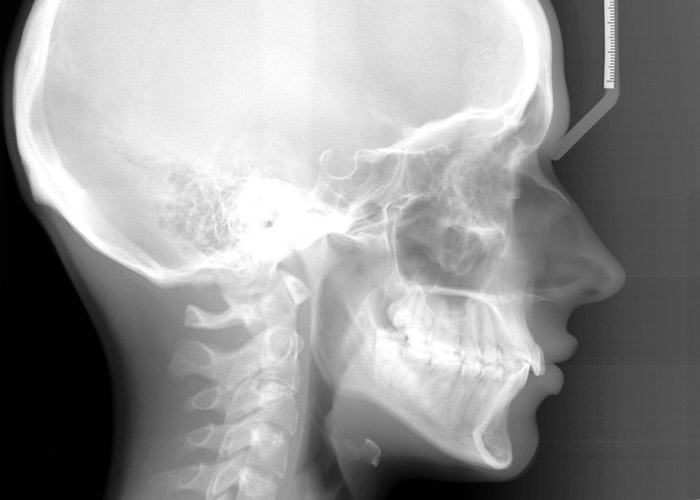 RTG cefalometryczne
Jest to zdjęcie boczne czaszki wykonane w powtarzalnej projekcji (ściśle określona pozycja głowy stabilizowana przez pozycjoner). Zdjęcie to jest podstawą dla analizy cefalometrycznej.
Analiza cefalometryczna pozwala na:
diagnozowanie wad zgryzu,
ocena stadium wzrostu,
planowanie leczenia ortodontycznego,
wstępna ocena planowanego charakteru leczenia – zachowawczy/zespołowy.
diagnozowanie wad zgryzu,
Ze względu na powtarzalność projekcji badanie można ponowić i porównać z poprzednimi, celem:
oceny postępu wzrostu i rozwoju,
monitorowania przebiegu leczenia,
ocena efektu leczenia operacyjnego,
ocena końcowego efektu leczenia.