Orthodontic treatment for patients with periodontal disease
Przyzębie – to zespół tkanek otaczających i utrzymujących ząb w zębodole. Przyzębie składa się z kości, dziąsła, ozębnej i cementu korzeniowego.
Prawidłowo przyzębie powinno obejmować cały korzeń zęba, sięgając do połączenia szkliwno­‑cementowego. W przypadku rozwijającej się choroby przyzębia przyczep kości i dziąsła do zęba obniża się i odsłania korzeń (recesja). Może również powstać kieszeń przyzębna – poziom dziąsła zachowuje prawidłową wysokość, jednak między korzeniem a dziąsłem powstaje przestrzeń, w której dochodzi do dalszej destrukcji tkanek.

Obniżenie poziomu kości powoduje, że ząb jest słabiej osadzony w zębodole i łatwiej ulega przemieszczeniom, takim jak wychylenie, szparowatość. Pacjenci z chorobą przyzębia coraz częściej podejmują leczenie ortodontyczne.
W wyniku terapii ortodontycznej aparatami stałymi uzyskuje się:
Prawidłowe uszeregowanie zębów,
Poprawę estetyki uśmiechu,
Możliwość łatwiejszego utrzymania higieny,
Umożliwienie wykonania stałych prac protetycznych (mosty, korony, implanty protetyczne),
Grupową pracę zębów, dzięki zblokowaniu ich retainerem ortodontycznym lub szynami z włókien szklanych.
Poniżej zgryzy pacjentów z chorobami przyzębia przed i po leczeniu ortodontycznym: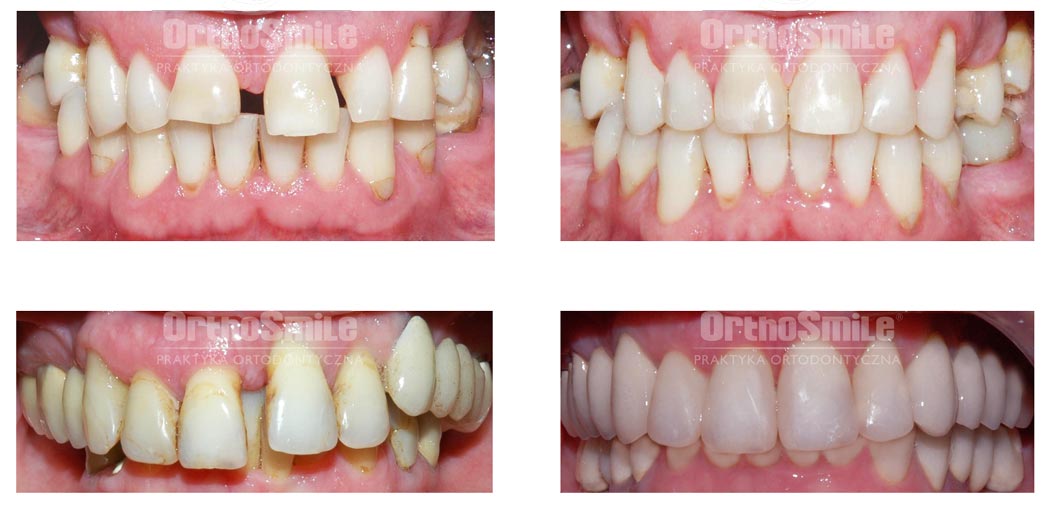 Praca z pacjentem z chorobą przyzębia wymaga:
kontroli higieny jamy ustnej na każdej wizycie,
regularnych zabiegów profesjonalnej higienizacji,
ostrożnego dozowania stosowanych sił,
współpracy z periodontologiem,
stosowanie przedłużonej retencji.
Periodontolog to specjalista chorób błon śluzowych i przyzębia. Każdy pacjent z chorobą przyzębia rozpoczynający leczenie ortodontyczne koniecznie powinien być objęty opieką specjalisty periodontologa. Periodontolog dysponuje szerokim wachlarzem zabiegów niechirurgicznych i chirurgicznych mających na celu poprawę stanu przyzębia. Zwykle zabiegi chirurgiczne przeprowadzane są po zakończeniu leczenia ortodontycznego.
Metamorfozy pacjentów
Zapraszamy do obejrzenia metamorfoz naszych pacjentów → Metamorfozy.